Location
Many students who come to Berkeley quickly realize that finding affordable housing at a reasonable distance from the classroom can be an undertaking in itself. Residents of Tellefsen Hall (TH for short) enjoy the close proximity to campus — just two blocks from the latter's north side. The North Side neighborhood is known for its safety and relative tranquility, and is home to various shops and restaurants, including two hair salons, a coffee house, Mexican, Italian, Korean, Thai, Japanese, and American restaurants, several small grocery stores, a stationary/copy business, and a florist.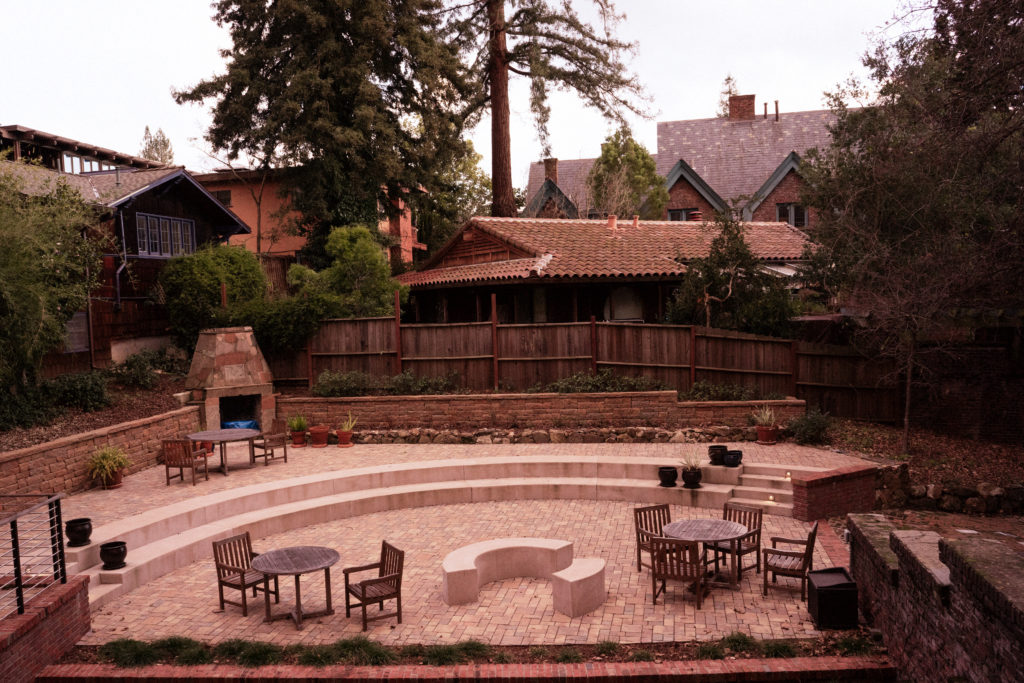 TH itself sits on a peaceful, forested lot through which Strawberry Creek meanders on its journey to campus. Members can enjoy the outdoors on our newly renovated outdoor landscaping, or picnic on the deck in the spring. The building itself is among the older buildings in Berkeley and has earned a spot on Berkeley's list of Landmarks and Structures of Merit list. Despite that, the building has undergone retrofitting several times – such as in the 90′s when it was seismically retrofitted for safety in case of an earthquake.
Academics
Tellefsen Hall is committed to creating not only a social atmosphere, but also one which is conducive to study and learning. Members can use TH's library for a quiet homework venue throughout the day, and after dinner, quiet hours go into effect, during which members can study in the living room or at the dining room table without interruption. One of the Social Committee members also serves as the House's academic advisor, offering useful tips to new students and keeping TH well-stocked with exam booklets, scantrons, and other materials.
Quiet hours do not apply to the basement area (which also serves as a laundromat for members), so residents often take advantage of its seclusion to watch movies (with surround sound!), play video games or ping-pong, or simply chat with friends.
Room and Board
Tellefsen Hall is home to 44 residents, and is split up into 14 single-sex bedrooms, with two, three, or four members to a room. All of the rooms are furnished with standard twin-sized beds, dressers, desks, chairs, and floor-to-ceiling closets, and are wired with broadband internet, in addition to being equipped with Wifi 6 capabilities.
One of the greatest assets of Tellefsen Hall is our employees. Our chefs Simon and Noe prepares lunch, dinner, and the occasional dessert Monday through Friday for house members, and keeps the pantries and refrigerators well-stocked with breakfast foods, snacks, and cooking supplies, as many house members enjoy a bit of midnight epicurean experimentation. When Simon is not working, members are given meal vouchers that are redeemable at a number of North and South Side restaurants, so they have an opportunity to eat out on occasion.
In addition, the Tellefsen Hall housekeepers Bety and Mateo, a married couple that has worked in the house for the past 20 years, work tirelessly to clean the kitchen, common areas, and bathrooms daily.
Social Events
All House members pay social dues of $100 a semester, and these funds become the bulk of the Social Account, managed by the House as a whole as advised by the Social Committee. The funds are used to pay for social events, trips House members take to nearby attractions. Recent destinations have included Six Flags Discovery Kingdom in Vallejo, Paramount's Great America in Santa Clara, the Berkeley Playhouse, and the Oakland Ice Center (for games of Broomball, a popular sport among House members). Each semester, the Social Committee schedules a formal dinner and a formal dance as well.
Often, and especially during holidays, social events take place at Tellefsen Hall. Favorites include the annual Halloween pumpkin carving contest, a Thanksgiving Dinner, and the weasel-egg hunt at Easter.